TLC for Kids Receives Industry Award for Innovation
On October 21, 2017 TLC for Kids was honored by the Association of Premier Nanny Agencies with their APNA Honors Award for Innovation in our industry. This award is given to an individual or agency that tries something new which enhances their business, increases revenues and incites change or advancement within the industry as a whole. For over 32 years, TLC has been a leading innovator in the in-home child care industry.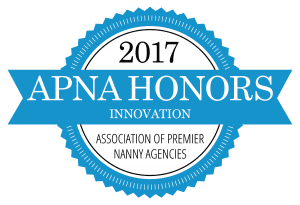 In 1985, using her thesis in college exploring women in leadership as a starting point, Sharon Graff launched one of the the first back-up child care care services in the US. She used the Kelly Girl model to develop an infrastructure to make emergency and sick care available for working mothers. Within 2 weeks of opening TLC For Kids, at age 22, Sharon appeared on the local CBS Morning news  discussing the "Superwoman Myth" – TLC offered a solution to the child care dilemma. Not only could TLC find a nanny for your family but we could also fill in when your regular care arrangement fell through or when your child was ill. The phone started ringing off the hook.  TLC For Kids became one of the first nanny and babysitting agencies in the country and paved the way for an industry.
The idea of fully screened on-call nannies and babysitters available around the clock was a revolutionary idea that would become common place in nanny agencies as the industry was born and began to mature. From that moment TLC would become a national model for temporary services in our industry. In 1988 Sharon joined the International Nanny Association which had just started uniting nanny agencies, educators, and nannies toward the goal of professionalizing the industry. Recognizing the importance of having the representation of an Industry Association, Sharon and some of her counterparts worked tirelessly to develop the INA into what it is today, a reputable, well-known and trustworthy resource for agencies, nannies, educators and families alike.
In 1987, Sharon's sister Stephanie joined TLC full time and together with the help of their dynamic staff continued to innovate.  TLC created a state funded training program for in-home child care providers. This program ran for many years and was well attended. In 1994, TLC was one of the first in the in-home child care industry to develop training for nannies who wanted to support postpartum mothers and their infants. TLC shares this program through workshops and materials, and it subsequently became an area of growth for all in the industry who participated in it.  Around this time TLC also developed the first industry-specific software package that was designed to manage the unique needs of our industry including the management of applicants in process, scheduling temporary services, creating professional caregiver profiles, and automating many repetitive but required tasks.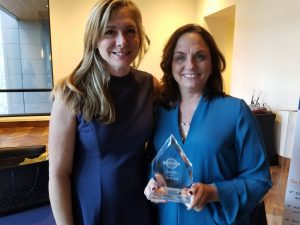 During this time, TLC also began offering consulting services to start-up nanny and child care agencies, and has now has consulted with hundreds of agencies throughout North America.  Sharon was part of the team who presented the New Agency Workshop for over 5 years. Her goal was to raise the bar for quality and promote best practices for those entering the industry in order to ensure a better perception and reputation for the entire industry.
In 1996, Sharon joined the Board of Directors for the International Nanny Association where she would serve for 16 years in many capacities, helping to develop and set those standards and guidelines to develop both the professional practices and perceptions of the home child care industry to the public at large. A large part of her role with the INA was innovation. As chairperson of website committee and public relations committee, Sharon helped bring nannies as a respected profession into the fabric of American culture. At the first APNA conference in 1996, a very pregnant Sharon provided a workshop to the newly formed APNA members and participants about temporary services.
Over the past 32 years Sharon, Angela, Stephanie and the rest of the TLC team shared their business practices and innovative growth with many industry counterparts through workshops at APNA and INA as well as submitting articles in the INA Newsletter.  It is for all of the above reasons that TLC should be recognized as a long-running and persistent innovator in the child-care space, as well as its past and ongoing contributions to the health and reputation of the industry as a whole.