Screen Time & Development: Is too much screen time harming our children?
Our guest post comes from International Nanny Association.
A recent study presented at the annual Pediatric Academic Societies Meeting in San Francisco revealed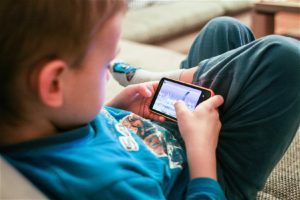 that too much time spent on a handheld device may delay the development of children's expressive speech. For many childcare providers including parents, passing the smartphone or tablet to a child has practically become second nature. New research indicates that our willingness to utilize smart devices solely as a distraction or for entertainment has increased in recent years, and a marked decline in interpersonal communication and interactions have resulted.
Knowing the dangers of a developing brain being exposed to multiple forms of vivid, two-dimensional images and videos flashing erratically, many childcare professionals work diligently to reduce the amount of screen time that their charges are exposed to. This most recent research indicates that though screen time can indeed slow speech development when the child is left alone with the device, there is some evidence to show that the childcare provider interacting with the child and utilizing the device as a learning tool actually has a positive effect on that child's communication and development.
Continue reading the full article.
TLC For Kids, Inc. has been St. Louis' premier nanny and babysitting agency for over 30 years. TLC For Kids' dedicated staff is ready to assist you in finding nannies, tutors, newborn care specialists, sitters and more. Reach us at tlc@tlcforkids.com or 314-725-5660