Nannying & The Work-at-Home Parent
Many companies are now allowing their employees to work remotely, which means they can work from home rather than heading into the office for a traditional work day. Telework for a parent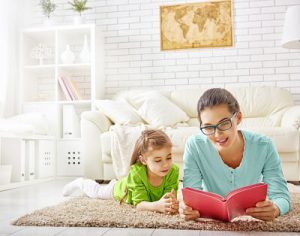 has many benefits, but it can also prove challenging if you're looking for nanny services. Finding a nanny that can navigate the ins and outs of working in a home with a work at home parent requires communication and because of the unique set up, sometimes a different set of rules.
Setting boundaries is key.
Many nannies that have had negative experiences while working with parents at home often indicate that there was an issue with lack of boundaries. For example, will they be walking around the home throughout the day or will they be inside of an office for most of the time? Proximity to the parent is something that will need to be discussed right away. Talk about the specifics and agree to boundaries and ground rules up front. This will be unique to each family and the parent's jobs. Here are helpful tips on establishing boundaries as a nanny with a work at home parent.
What are the three key boundaries to set when working with a work-at-home parents? Find out in part one of this two-part feature.
HomeWork Solutions is one of the nations leading nanny tax and payroll companies.
TLC For Kids, Inc. has been St. Louis' premier nanny and babysitting agency for over 30 years. TLC For Kids' dedicated staff is ready to assist you in finding nannies, tutors, newborn care specialists, sitters and more.  Reach us at tlc@tlcforkids.com or 314-725-5660