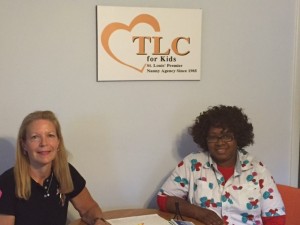 TLC for Kids provides quality in home child care for families in Missouri and Florida. Our nannies and sitters get great feedback from the families they help. From time to time the reviews are so awesome we can't keep them to ourselves!
Read the great review we received on Dascha in the St. Louis office.
"Just wanted to write a quick note to let you know how spectacular Dascha has been every time she's worked for us. Dascha is very detail oriented. If anything out of the ordinary comes up, like David, my 8 year old telling her "I promise that mom ALWAYS lets us do XYZ" Dascha won't hesitate to text me to verify (and 90% of the time David was not being truthful but rather attempting to push boundaries as is want to happen with an Aspie/ADHD kiddo). Dascha always fills out the form to let me know what she's done with the boys – which I really appreciate knowing. Dascha even brings her own toys, which makes her very popular, even if it's something as simple as playdoh (which we have a ton of but hers is special) and will help the boys clean up after themselves. The last thing I really appreciate is her making sure she has a note from me if the boys are going to ride in the car with her. It gives me good piece of mind to know the kids will be identified correctly if, heaven forbid, they were in a car accident. Just wanted to note that it is appreciated!"
Maria in the Florida office did a great job taking care of twins.
"TLC has proven to be excellent in every way. I was worried about hiring someone to help me with our twins, but I do feel confident now with the choice of sitter TLC has sent.
Your office staff is excellent and they exceeded my expectations. It was because I was so impressed by your office staff, and because it is a family owned business, that I decided to enroll with TLC. An example of why I was so happy with your staff is that they were kind, warm, and helpful whenever I called. They treated me as if I was very important to them. Kathy spoke to me about my needs and then worked diligently with Adriana to find me the perfect match.
Maria is the perfect match for me. She is very professional yet extremely loving and warm with the twins. She is punctual, soft spoken and respectful. Maria is knowledgeable about children and I trust her experience in keeping them safe and in nurturing them. I am very happy with Maria and with your service."
TLC is a family owned business that has been helping families with their in home childcare needs for thirty years. We would love to help you too! For more information please visit our website at tlcforkids.com.