What to Bring to a Nanny Interview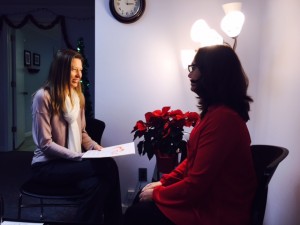 So you've gone through the TLC for Kids application process, and you're moving on to interviewing with families! Interviews can be a scary part of the process, so we've gathered a few tips on what to bring and how best to represent yourself!
Prepare ahead of time.

Review any information you have about the family or the job before the interview, so it is fresh in your mind and you can show that you did your homework. Also look back over your resume and application, and brainstorm your answers to common or expected questions about your past experience and your nannying style.

Make a good first impression.

Be on time, dress professionally, shake hands, make eye contact, and don't forget to smile! Nannying is about connecting with the parents as well as the kids.

Bring activity ideas – from past experience or tailor-made for this family – and be ready to brainstorm more possibilities as you learn more about the kids throughout the interview

If you're interviewing in the home, ask to meet the children and spend a few minutes getting to know them. This will show the family that you are ready and excited to get started.

Parents will like to see that you thought about the job enough to have your own questions and concerns. Don't be too shy to ask about specific needs the kids have, any additional responsibilities outside of childcare, their typical daily schedule, or any other things you're curious about.

Parents lead busy, hectic lives! A written or emailed thank-you note can go a long way – especially if it emphasizes a couple of things that got you excited and made you realize how perfect this job will be for you.

Good luck!