Nanny Q and A with TLC for Kids Featured Nanny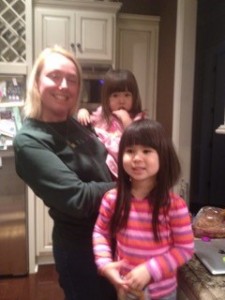 Another month for our "Three minute Q and A with TLC nannies." Each month we are bringing you some great Q and A with our nannies so they can share some info and insight about the nanny profession and educate others on some of the fun aspects of the job. This month we interviewed Maria. Maria is one of the temporary nannies on our babysitting staff.
1) Why did you apply with TLC? I was working as a substitute teacher in St. Charles County and there was a huge influx of retired teachers that entered the substitute teacher pool. My income was affected by this sudden change in the market. My sister was using TLC when family members could not help her and she suggested that I look into getting on board. My sister seemed very happy with the babysitters that had come to her assistance and I decided to apply.
2) What do like best about working with children and families? I love challenging children to use their imaginations and to pretend play. I took a course on "How We Learn" and pretend play is the best way to hone learning, problem solving, communication and creative skills.
3) What is your long-term career goal? When I am not babysitting, I am a touring actress for my own children's theater company as well a touring actress for a murder mystery dinner theater company. I am living my dream come true. Working for TLC, keeps me grounded in reality and allows me to encourage others to pursue their dreams.
4) What is your go to ice breaker when you are meeting a new child? I try to make sure that I know the child's interests going in. I bring up early upon first meeting that I have brought something that is in line with the child's interest. I also include them in the conversation early on.
5) Do you a favorite organization or person you follow on Social Media that is childcare related? No specific entity. I work with Children's Librarians throughout the Midwest, since they are a major client of my children's theater company and we are constantly swapping ideas.