Nanny Q & A with TLC's Featured Nanny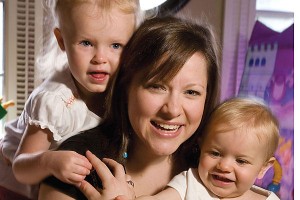 It's here…our newest blog feature. We're excited to announce our newest blog series, "Three minute Q and A with TLC nannies." Each month we're going to bring you some great Q and A with our nannies so they can share some info and insight about the nanny profession and educate others on some of the fun aspects of the job. This week we interviewed Judy.
1. Why do you want to be a nanny?
I became a nanny after college when I realized teaching in a daycare setting was not for me. I have always enjoyed working with children, so when the opportunity arose, I jumped in with both feet! I love being a nanny, and can no longer imagine having a career in anything else!
2. What's your favorite thing about being a nanny?
Being apart of a family! Working together as a team in raising the kiddos!
3. What activity are your looking forward to doing with your charge(s) this week?
This week we are going to grants farm and to the train store to play with friends!
4. Where do you get your ideas for creative activities? What's your favorite craft?
Pinterest, Facebook groups, friends, and google is my best friend!
5. Do you follow any blogs or websites to share with other nannies?
Nanny Transitions