TLC for Kids was recently honored for our exceptional back-up care program! TLC has partnered with Bright Horizon's to provide back up care for families in Florida and Missouri.  We are love being able to assist working families with their care needs and are honored to receive this recognition.  Recently TLC owners Sharon Graff-Radell and Stephanie Graff sat down with Bright Horizon's to discuss what makes TLC stand out from other agencies.  You can read excerpts from the interview here.
TLC for Kids is a St. Louis-based organization with an expansion office located in South Florida. Co-owners Sharon Radall and Stephanie Graff are sisters who fully understand the difficulties of balancing work life and a growing family and who do everything they can to support the clients in their care.

TLC was chosen as this quarter's agency spotlight because of its well-established relationship and rapport with office staff, and because of their caregivers who are singularly focused on making a great impression on families.

That focus, say the owners, begins with the hiring and training process. Prospective caregivers are asked careful questions about past caregiving experiences. They also receive detailed orientation and training, which includes best practices on engagement, expectations, and communication. Orientation is also an opportunity to review the required introductory phone call and the importance behind it, and to discuss how a caregiver can effectively interact with the family upon arrival, at day's end (a "what we did for the day" note is essential), and throughout the day. During this time, caregivers also get activity goody bags that they're required to bring to care sessions.

Maintaining engagement requires commitment from everyone. The office does its part by offering ongoing education, monthly newsletters covering hot topics, and occasional meetings and events designed to give the caregivers a platform to be heard. Such efforts help TLC develop their caregiver pools and strengthen the loyalty and commitment shown by everyone who works for them.

Stephanie and Sharon believe we are all a team striving towards quality care, "The caregivers are at the heart of what we do. TLC for Kids believes that caregivers need to feel important and hear feedback both positive and constructive. Good caregivers are a key component to success and should not be taken for granted."
The TLC for Kids staff provides care for children, newborns and the elderly. All of our sitters are thoroughly screened and are trained to provide the highest quality care in the state. TLC for Kids is currently hiring in our South Florida and Tampa offices and in St. Louis, Missouri. If you are a nurturing caretaker looking for a rewarding job in Tampa, Miami or St. Louis caring for others visit our website at tlcforkids.com
April 15th is almost here and many of you are working on filing your taxes.  Over the last few weeks TLC for Kids has received calls and emails about how to handle nanny taxes.  We are not tax experts at TLC for Kids, so we recommend using Homepay for all your household employment needs.   Here is some information on nanny taxes that you may find helpful.
Paying taxes tends to invoke negative feelings for most people. Fortunately for household employers, there's a silver lining– tax breaks. As long as you and your spouse are working or are a full-time student and have at least one child under 13, you're in a great position to make back most, if not all, of your nanny taxes. Here are two ways you can save:
1) Dependent Care Flexible Spending Account. Many companies offer their employees the option to set aside up to $5,000 of their pre-tax earnings into a Dependent Care Account to pay for childcare expenses. This means there is no federal or state income tax, Social Security tax or Medicare tax on $5,000 of either you or your spouse's income. Depending on your state and your tax bracket, this deduction will save you anywhere from $2,000 to $2,300 per year.
2) Child Care Tax Credit. If you don't have access to a Dependent Care Account, you can claim the Tax Credit for Child or Dependent Care (IRS Form 2441) on your federal income tax return at year end. If you have one child, you can save up to $600 per year (20% on up to $3,000 in childcare expenses). If you have two or more children, your savings will be up to $1,200 per year (20% on up to $6,000 in childcare expenses).
Great News! If you have two or more children under the age of 13, you can use a combination of these two tax breaks in order to achieve a maximum of $2,500 in tax savings.
For many families, the tax breaks will offset a large portion of the employer tax costs. This is especially true for those employing someone on a part-time, seasonal or NannyShare basis.
We hope you find this helpful.  Please call TLC for Kids St. Louis 314-725-5660 or TLC for Kids Miami 305-256-5905 for your child care needs.
Looking for a new nanny job?  As a nanny or babysitter  finding a job may be easy, but finding the right family could be difficult.   You want to be treated like a professional and compensated for your years in the field.  TLC for Kids is a professional nanny agency that will meet your needs and is here for you.  When you work with TLC you will be assigned a Placement Counselor who will work with you to find the right family.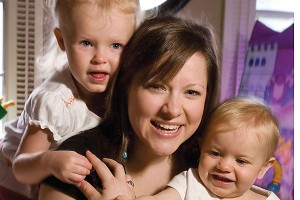 Thank you to the International Nanny Association for these 4 reasons why a nanny should use a local agency to find a job.
1. Personal Attention & Support: When working with a local nanny agency, you will have all the personal attention you deserve throughout your job hunt. Look for an agency with a caring, professional staff to guide you through your job search. A veteran agency with a tenured staff will also have a great deal of knowledge and expertise in the industry. They will match your unique skillset and personality with the right families, and offer you jobs that meet your needs.
2. Industry Knowledge & Professionalism: When you decided to work with a local nanny agency, you can expect to be treated as a professional. Seek out an agency who is involved with the nanny industry at large, and who knows what is standard for compensation, benefit and vacation packages. A local nanny agency has first hand knowledge of local wage and benefit packages. Families who work with nanny agencies are well educated, and treat their employees with the respect they deserve.
3. Long-term Success: Families who work with a referral agency have realistic expectations about hiring a nanny. Look for an agency that provides families with an employment contract that outlines the job description, duties, compensation, paid time off, etc. You will also want agencies who educate their families on recommended intervals and processes for reviews to keep open communication between nannies and families.
4. On-going Support: Local agencies offer ongoing support even after you have been placed with a family. Professional agencies will host events for nannies to network with fellow nannies, as well as ongoing training opportunities for development. They will seek to expand your skills as a nanny professional. Your agency should also offer unbiased counseling and/or mediation should you have any issues with your placement.
TLC for Kids has been helping nannies find professional nanny jobs over 25 years.  If you are looking for a rewarding career working as a nanny in St. Louis, Mo, or South Florida please contact us at tlc@tlcforkids.com or click here to fill out our online nanny application.