Summer is almost here and it's time to start thinking about childcare for the break.
TLC for Kids have great nannies ready to work this summer. All of our nannies are experienced, screened and excited about playing with your kids this summer! TLC summer nannies will explore the city with your kids. They will go to the Zoo, the Science Center, the pool, and all sorts of fun places.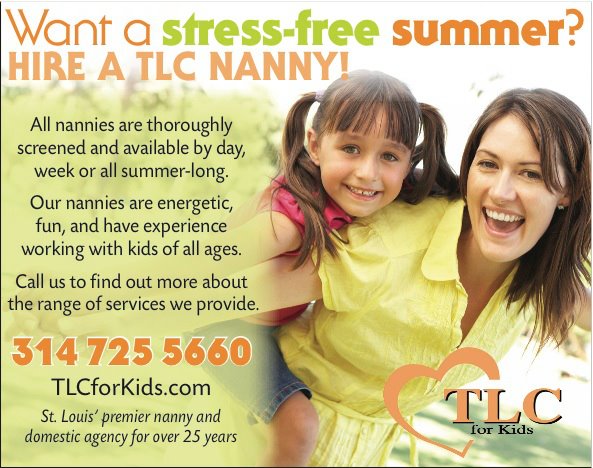 Contact us today to start your summer nanny search.   Ask us about the Early Bird Special!!
St. Louis, Mo. 314-725-5660                                  South Florida 305-256-5905
Spring is season of teachable moments: flowers and trees are blooming, new animals are coming out and about, and the weather is warm enough to get outside.  TLC for Kids babysitters come to work with cute craft ideas.  Here are some activities to help teach children about spring:
1. Cut & Paste a Caterpillar as Long as Your Name. All you need for this activity is construction paper, pipe cleaners, markers, crayons, scissors and glue. Depending on the age of the child you are working with, you can draw circles for the child to cut out or they can draw and cut on their own. During the activity, talk about how caterpillars turn into butterflies and other insects that we see when the weather warms up. This activity will help with fine motor movements, learning their name and letters, and you can practice counting by counting the circles of the caterpillar.
2. Paint a Windsock. All you need is washable paint, construction paper, streamers, and a stapler. Have your children paint on a piece of construction paper, and then use a stapler to turn the paper into a cylinder-like shape. Then, you can either have the children glue streamers to the paper or you can staple them yourself. Hang the windsock outside to see how it moves or the children can run with the sock to create movement. This activity is a great sensory activity, promotes fine motor movement, and gross motor movement if you allow the children to run with their sock.
3. Create a Sun Catcher. All you need for this activity is contact paper, adhesive foam paper, tissue paper, scissors, cupcake wrappers, and water paint. Depending on the age of your child, you can trace flowers on the adhesive foam and the contact paper and have your child cut the flowers out themselves. Then put the foam flower onto the contact paper. Now your child can take the tissue paper and fill the flower however he or she chooses. For the center of the flower, your child can use the cupcake wrapper and add color by dipping it into the water paint. All that's left to do is stick the flower to the window. If your child isn't interested in flowers, be creative with the foam and contact paper and trace animals instead. This is a great sensory activity and promotes fine motor skills.
For more ideas, check out the TLC for Kids Pinterest page.
Spring Break is a fun, and busy, time of the year! Whether you are going out of town for a warm getaway, or having a stay-cation here in St. Louis, TLC for Kids can help you with your Spring Break needs.
Lots of families go on vacations for Spring Break. But not every vacation is inviting for your four-legged friends. Instead of taking your family pet to a pet daycare, have a sitter come to your home. Your pet will receive the same attention as if you were home with them. And a TLC sitter can do more than just watch your pet. They can also stay at your house to keep everything safe and allow you to enjoy your vacation without worrying.
Did you know TLC sitters are available to travel with your family on vacation? Families often fill their vacation schedules with activities for the kids. But TLC for Kids recognizes parents need a vacation for themselves, too. Bringing a TLC sitter or nanny a long gives parents the flexibility to see places they are interested in, have quiet meals at adult places, and know their kids are being cared for by someone they trust and their kids are comfortable with (remember you can request your favorite sitters anytime you need a TLC nanny).
If your kids are out of school for the week, but you still have to work, don't worry! With TLC for Kids, you can hire a nanny for the entire week. Our sitters can come to your home with activities to keep the kids entertained while they are away from school. TLC sitters also have reliable and insured forms of transportation, so the nanny can take your kids to places around the city or to and from their practices/school events.
Call TLC's office to book your sitter today (314) 725-5660.