Childcare Jobs Available!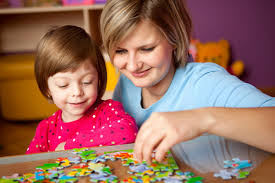 Would you like to:
Find a nanny or babysitting job in the St. Louis Area?
Care for and nurture young children?
Provide fun learning and age appropriate activities?
Make a real contribution to a family?
Then TLC for Kids is here for you. We help caregivers find great nanny positions in St. Louis, Missouri and South Florida. Click here to begin your job search!
Here are a few of our current job openings in St. Louis:
1.) Full-time nanny needed in University City, MO. Twins are 4 mos. old and hours are 9a-5p. Family is seeking someone who has permanent nanny experience with twins! Starts ASAP and pay is $550+/wk
2) Full-time nanny needed in Chesterfield, MO. Twin girls are 3 y/o's and family would love someone with a preschool background. M/T/TH 12p-6p and W/F 7a-6p. Pay is also $550+/wk.
3) Part-time live-out housekeeper / nanny needed in Belleville, IL. Two families will nanny share for M-TH. Applicants must have housekeeping experience and references. This is also a permanent position (1 year+) and will pay between $15-18/hr.
4) Part-time nanny needed in University City, ASAP! Schedule is Monday, Tuesday and Thursday 8a-6p. Toddler is very active, and 10 mos. old will be soon! Mom is seeking someone very calm and patient. Schedule is a little flexible. Pay is between $13-16/hr.
5) Part-time morning position in Clayton. New baby (4mos. old) will need care 8a-1p M-TH. Must have infant experience! Starts ASAP!
Contact Jessica@tlcforkids.com if you have any questions.