Fun Water Play Ideas for Kids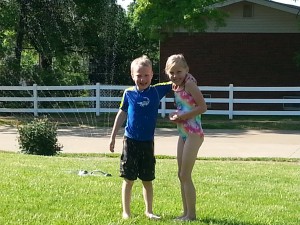 Swimming is always a summertime favorite for kids. However, it is important our caregivers and parents know  that TLC for Kids' temporary nannies are not allowed to take children swimming.
This may seem disappointing at first, but luckily there are lots of fun water activities for toddlers and younger children that don't involve swimming. Water activities are some of the simplest activities for kids to try, but ones they also seem to enjoy. You don't even need a water table—all you need is a tub.
First step is finding a large tub and filling it with water. Once your tub has been filled with water, there are different options for what to put in the water:
• Add rubber ducks and boats to the water, so your children can race each other.
• Add soap and some of their old toys. The children will have fun playing with the bubbles, and their toys will be nice and clean by the time the children are done playing.
• Add rocks, leaves, and sand to the water. This is a great sensory activity; your children will have fun discovering the ways each item feels under the water and seeing what will float and what will not.
• Add funnels, cups, and turkey basters from your kitchen. The children will enjoy watching how the water comes in and out of each item.
As you can see, water-play is full of learning and easy to do. If you would like more ideas, visit our Pinterest page.
Have summer plans? Call TLC for Kids to book your sitter today.