Looking for in-home tutors?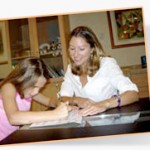 The end of the first quarter at school is quickly approaching. Just last week my daughters came home with their progress reports. For the record a kindergarten progress report is super cute!
If you are concerned about your child's grades or feel like a little extra help will be beneficial give us a call. TLC for Kids has experienced tutors. Our tutors, like our sitters, have gone through our thorough screening. TLC tutors will come to you and provide one-on-one instructional help.
TLC Tutors:
• Provide instruction in reading, writing, mathematics, history, science, foreign languages, music, and more.
• Use your child's school curriculum to help with homework and exam preparation.
• Provide one-on-one instruction in the comfort and security of your home.
• Give children the skills, confidence and motivation to get better grades.
• Tailor tutoring sessions for children with special needs.
To learn more and request a tutor register today!